For many of our clients, applying for a Luxembourg passport (and ID card) is the ultimate goal of going through the citizenship process. We receive many questions about this part of the citizenship application process.
Six months after you complete Stage 2 in Luxembourg, you should receive a court order equivalent to a "certificate of Nationality". It states the day and time that you became a citizen of Luxembourg. You are now eligible to apply for both a passport and (e)-ID card from Luxembourg.
In order to obtain a Luxembourg passport, you can either go to the competent embassy or consulate that has jurisdiction over your residential address or the Bureau of Passports in Luxembourg City for an urgent procedure where the passport is delivered in three days' time. The Bureau requires applicants over the age of 12 to be physically present for the first passport application. A biometric scan of your fingerprints must be made. The cost of a Luxembourg passport is 50 Euros for a 5-year duration passport. You can pay this online via bank card or through wire transfer.
Luxembourg National ID Card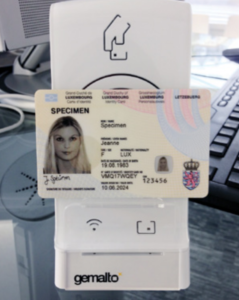 The Luxembourg national ID card looks like an American driver's license and is now available for the first time through consulates and embassies. In Luxembourg and across the European Union, the national ID card is a legal form of identification. You can also use it for country-to-country travel within the European Union. A Luxembourg ID card is quite different than a US identity card. This is because it is a digital card with a PIN when requested.
In order to access government services in Luxembourg, you will need to have access to a government-approved e-card reader. (You will likely do this when you file taxes.) You can purchase these online, and we're happy to help you order one and obtain a PIN code. As a resident of the USA, you will not normally need an e-ID reader. However, we understand that some clients will be eager to obtain one.
For consular jurisdictions when applying for Passports and (e)-IDs:
Residents of Alaska, Arizona, California, Colorado, Hawaii, Idaho, Montana, Nevada, New Mexico, Oregon, Utah, Washington: The Consulate General of Luxembourg in San Francisco for visas and passports;
Residents of Connecticut, Delaware, Maine, Massachusetts, New Hampshire, New Jersey, New York, Pennsylvania, Rhode Island, Vermont: The Consulate General of Luxembourg in New York for visas and passports;
And residents of all other states, Mexico, and Canada should refer to the Embassy of Luxembourg in Washington, D.C.