If you apply for Luxembourg dual citizenship and don't try the local food, you're missing half the point. We give you the low down and tell you where to find the elusive Luxembourigsh cuisine.
Exploring Luxembourgish Cuisine
Many people visiting Luxembourg to apply for dual citizenship will want to try Luxembourgish food as well. There's a good chance you've never seen a Luxembourgish restaurant outside of Luxembourg. In fact, you'll even find that there are not that many Luxembourgish restaurants in Luxembourg itself.
Many people describe Luxembourgish cuisine as combining elements of the bordering countries' food, so French, German, and Belgian. But for certain, Luxembourgish cuisine also adds some unique Luxembourgish elements as well!
Understanding Luxembourgish cuisine is also a way to understand the country's identity and history. You'll find that Luxembourgish cuisine tends to be pretty heavy. This reflects the fact that for much of its history, Luxembourg was an impoverished nation.
Luxembourgish Restaurant Recommendations
There are two main Luxembourgish restaurants that we suggest for people applying for dual citizenship to visit. They both also happen to be close to the Bierger-Center, where you will make your citizenship declaration.
The first (our favorite) is Restaurant Um Dierfgen, which is the closest to the Bierger-Center. We've been there several times, and we really enjoyed it each time. Split across two floors, the restaurant has an ambiance that feels like a standard French white tablecloth restaurant-style.
Am Tiirmschen is probably the most famous Luxembourgish restaurant. It's located behind the Grand Ducal Palace. Setup with a rustic typically Luxembourgish style, Am Tiirmschen might be many people's reference when it comes to Luxembourgish restaurants. Despite the rustic style inside, we found that they have tried to jazz up some of the more traditional dishes to give them a more contemporary feel.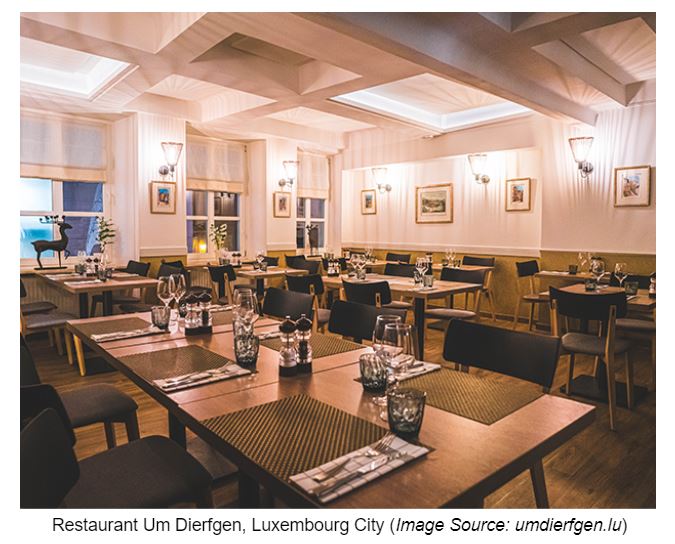 If you plan to visit Am Tiirmschen for dinner, we'd suggest to call and make a reservation in advance.
We also have several honorable mentions, including Mousel's Cantine, which is more beer/brewery-oriented food. We also recommend Juegdschlass, which is located a little bit outside of the city center.
In our experience, we feel that you can find more Luxembourgish food options outside of the capital. While we don't have any specific suggestions for those, you should be sure to look around and explore when you're visiting the other towns in Luxembourg. If you feel you need a bit more handholding, check out City Savvy Luxembourg's blog article, which refers to various other well-liked restaurants serving Luxembourgish food throughout the country.
Popular Luxembourgish Dishes
Now, you might want to know specifically some of the plates that you should order when you're at a Luxembourgish restaurant.
Appetizers
Choose one of these appetizers to start your meal right.
-Feierstengszalot mat gebootschten Gromperen, which is a boiled beef salad with potatoes, mustard, and gherkins.
-A favorite plate for many Luxembourgers: Kniddelen. Flower dumplings often served with cream, bacon, and sometimes apple compote. Kniddelen can be served as appetizers in Luxembourgish restaurants, but they can also be eaten as a main.
-Gromperkichelcher, which are fried hashed potatoes mixed with shallots, garlic, flour, parsley and eggs. It's most common to find these at festivals and fairs, but also sometimes served in restaurants like the ones mentioned above.   
Main Dishes
Here below are the main dishes you need to know by the time you arrive in Luxembourg:
Main Dishes
-Judd mat gaardebounen:  A savory dish of smoked pork collar and broad beans. One of the most widely recognized national dishes, the name literally means the Jew and the broad beans. Not the most politically correct dish name on the planet.
–Bouneschlupp may be the most well known Luxembourgish dish. A green bean soup made with bacon and sausage, you may also see the dish called Bouneschlupp mat mettwurst (Luxembourigsh smoked sausage). You can see our founder Daniel Atz making this dish in our blog article on his first appearance on national TV in Luxembourg: TV Report on Dual Citizens in the USA.
–Weinzossis: a sausage made with wine and usually served with Luxembourgish mustard. Luxembourgish mustard resembles French dijon mustard.
-Paschtéitchen, more commonly called by its French name Bouchée à la reine, which might be considered a Luxembourgish take on the Belgian vol au vent. It's similar to a creamy chicken pot pie.
–Huesenziwwi – referred to in English as a "jugged hare". A hare you might recall resembles a North American jack rabbit. This dish is rarer to find today. Jugging means to cook an entire animal in a civet or clay pot. Effectively, a large rabbit (but dark meat instead of white) cooked overnight in a cognac sauce. One of the traditional delicacies of Luxembourgish cuisine.
-If Huesenziwwi was not enough to shock you, we do have one recommendation. Most Americans will want to avoid "steak de cheval." Actually a French dish although common in Luxembourg, steak de cheval means horse steak. In the past, it was not uncommon in Germany and France to eat horse. The practice remains common in Luxembourg. You can look out for the same term in restaurants in the border countries, which also serve steak de cheval.
Desserts
Luxembourgers love a good sweet with the best of them. Here are some local desserts.
–Quetschentaart, a tart made from prune plums. Probably the most quintessential Luxembourgish fruit. It's most common and traditional to find this dessert in the fall, but it's actually absolutely available throughout the year.
–Kachkéis – a type of cooked Luxembourgish cheese. Americans don't normally consider cheese a dessert, but in the French dining style it absolutely is. That said, Kachkéis is more commonly served in Luxembourgish houses and eaten on bread (tartine/schmeer) as an appetizer or as a meal. There is a kachkéis tarte which is a lot like cheesecake which is often served as a dessert in Luxembourg.