Today, we take a look at Luxembourg's famous Ketty Thull and Carlo Sauber's recently updated publication of her cookbook.
The Story Behind Luxembourg's Own Betty Crocker
Ketty Thull is a name that has shaped Luxembourg's homes and kitchens for generations. Following my appearance last month on RTL, I have received a lot of questions about Luxembourg's cuisine and the recipes and cookbook that I used in the TV special to make one of Luxembourg's most famous national dishes, Bouneschlupp.
Ketty Thull was responsible for writing and publishing Luxembourg's first ever cookbook in 1937, a guide that has remained a bestseller for over 40 years in Luxembourg. Since the publication of Ketty Thull's anthology of Luxembourg's cuisine, it has been a common wedding gift for Luxembourgish couples.
A teacher at a school for "housewives" in Esch-sur-Alzette, Thull first studied at the Cordon Bleu school of cookery in Paris. She published several books in German that she typed by hand herself. Starting from a book on baking, her recipes in later editions range from simple dishes, such as a boiled egg, right through to the more local fare of Gehack (pig's lung, heart, and liver in tomato sauce) and Kudelfleck (cow's stomach), and classics like Lobster Thermidor and Beef Wellington. She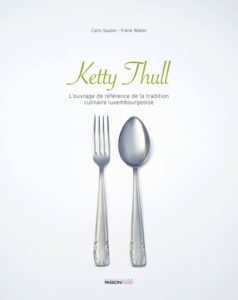 published all without images.
While Ketty Thull is a household name in Luxembourg, we know very little about her. It is even very difficult to find a photo of the very private woman who neither married nor had children. The people who knew her most took her courses in Esch-sur-Alzette.
New, Updated Cookbook
A few years ago, the author Carlo Sauber published an updated version of Ketty Thull's cookbook. The book features photos of the recipes and was published in German and French. And updated, less fattening recipes have also been released by a well-known chef in Luxembourg. The book also retains the theoretical section in which Thull described different cutting techniques, essential kitchen tools, weights and measures, and seasoning.
In early 2021, Carlo Sauber published another book based on Ketty Thull's original cookbook. The latest edition entitled "Ketty Thull – A Sense of Home" provides access to recipes from Ketty Thull in English for the first time. There are not many stores selling this book online yet, but you can check out out this Luxembourgish publisher who has it available.
For a great Bouneschlupp recipe in English, please visit http://globaltableadventure.com/recipe/green-bean-soup-bouneschlupp/.
LuxCitizenship Founder Makes Ketty Thull's Bouneschlupp on National TV in Luxembourg