Over 800 Americans have applied for Luxembourg Dual Citizenship. Luxembourg national TV broadcaster RTL came to America to find out why. The following is the personal TV report story of LuxCitizenship Founder Daniel Atz on participating in the television special in Luxembourg "More and More Americans Want to Become Luxembourgish".
My Day with RTL
Back in late June, the Consulate-General of Luxembourg in New York called me. They informed me that of my selection by the consular team to participate in a national TV report in Luxembourg about Americans taking on Luxembourg dual citizenship. The call certainly caught me off guard. It was a major honor.
Over the following weeks, I communicated back and forth with a TV production crew in Luxembourg working for the national radio and television broadcaster RTL. The producer told me that she understood from talking to me and the team at the Consulate-General in New York that I was very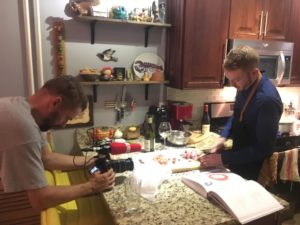 passionate about the Grand Duchy. However, she didn't know how to translate that into good TV. Once again, I was caught off guard.
My great-grandmother from Luxembourg passed away four years before I was born. I wasn't raised in a home that had any "Luxembourgish traditions" in particular that I could think of. I read the news from Luxembourg every day, talk about Luxembourg a lot, and have a room full of trinkets from the motherland. But, I understand good and well that none of that would make great TV.
Finally, the producer Raphaëlle Dickes had a stroke of genius. "Do you know how to cook?" she asked me. That I could do. Fast forward a few weeks. I had my trusty Ketty Thull Luxembourgish cooking book in hand. It was the night before the taping of the production. I was collecting all the ingredients for one of Luxembourg's national dishes called Bouneschlupp. It's a soup made of string beans, celery root, and potatoes. We garnish it with sour cream, smoked sausages, and bacon.
On the day of the shoot in mid-August, it was raining cats and dogs with high humidity in New York. It put a big damper on our plans for the day. As you can see in the video link below, I met the team at my office at the start of the day. There, I had my first real "Luxembourgish" lesson with the RTL producer Raphaëlle Dickes. I am a pretty fluent Chinese speaker, and French is also my second language. But, I have to say that pronouncing Luxembourgish is very hard. After recording throughout my office, we headed out into gridlocked Manhattan traffic on our way to a friend's home in Ridgewood, Queens.
We shot the cooking scenes in my friend Jeff Sturdivant's kitchen. Jeff is a former roommate of mine. Actually, he was also the person who suggested that I look into dual citizenship in Luxembourg after he spent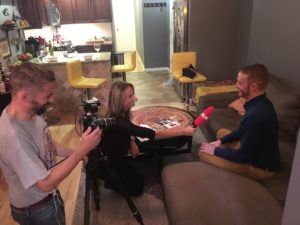 a few days working in the country in 2012. The RTL team thought it was all the more meaningful that it was in his kitchen that we shot the video.
What ensued was four hours of intensely cooking a Luxembourgish winter food. We were indoors with four people in a tiny New York kitchen cooled by limited AC. Outside, it was 95-degree, humid weather. I am not sure if the video communicates how sweaty I was.
One of the hardest parts of the day was getting all the ingredients out of the fridge in the same order nine different times. We did so in order to record nine different angles of the same thing.
While the soup simmered, I had the opportunity to speak about my great-grandmother Marguerite Cruchten.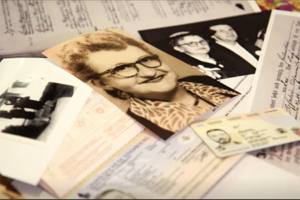 She came to the USA after World War 1 with my American soldier great-grandfather. She had a huge impact on my whole family for generations to come.
In the end, this experience was incredibly meaningful to me. It was also one of the funniest moments of my life. On top of that, both the Americans and Luxembourgers said that we impressed them with the Bouneschlupp. Although, the Luxembourgers thought it was strange that I cooked the bacon before cutting it up.
I am incredibly grateful that I had the opportunity to share on TV in her native country the story of my great-grandmother. She, in turn, gave me so many opportunities as a Luxembourger. She gave me the opportunity to share my own story and the possibility to share more about Luxembourg with friends and family who have since seen the video.
I hope that unexpected opportunities like this come up for all my clients that venture into "the unknown" by opening the door to Luxembourg citizenship.
A special thanks goes out to the team at the Consulate General and the crew from RTL for arranging this. Furthermore, congrats to fellow New Yorker Lisa Wilkie, who we also featured in the video.
To view the TV report video about Americans with Luxembourg dual citizenship as broadcast on RTL's De Grand Journal, please visit https://www.rtl.lu/lifestyle/people/1087202.html.
For an article in French on the TV report, please visit http://5minutes.rtl.lu/grande-region/laune/1087490.html.