Luxembourg's stakes in the space business expand as the Luxembourg Space Law makes room for more.
Luxembourg Prospers as Space Business Expands
Luxembourg is the world's most prosperous nation, as measured by per capita GDP. This was not always the case, however. Luxembourg was an agrarian society until the late 1970s-80s. Back then, it established itself as a major worldwide banking and investment fund management center. However, as EU regulation and competition are changing the realities of this market, Luxembourg has been searching for ways to secure the position of its economy for the future. Under the guidance of the Economy Minister since 2012 (Etienne Schneider, pictured above), Luxembourg has been pivoting itself towards space business and, specifically, space mining.
Luxembourg is not new altogether to the space economy. It's been involved since the 1980s when it gave funding to satellite backbone operator & major Luxembourg enterprise SES. Luxembourg has had its eyes on the stars since then. Now, with the advent of the Luxembourg Space Law promulgated on August 1, 2107, over 50 international companies have recently set up shop in Luxembourg. The law specifically creates a framework for the mining of space objects like asteroids. Similarly, it gives companies ownership rights to the rare materials that can be mined from objects like asteroids.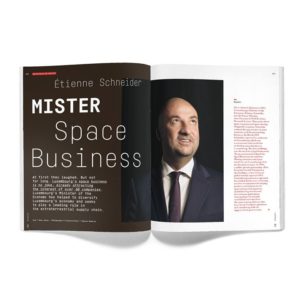 Thoughts on Luxembourg's Space Business
"Luxembourg is the first adopter in Europe of a legal and regulatory framework recognizing that space resources are capable of being owned by private companies," Etienne Schneider said in July 2017. Luxembourg in June 2016 set aside 200 million euros ($229 million). They did so in order to fund initiatives aimed at bringing back rare minerals from space.
Luxinnovation is a Luxembourg government initiative that helps attract innovative business to Luxembourg. The Luxembourg Trade & Investment Offices in New York and San Francisco have released together a new English language magazine about business in Luxembourg called Happen. The first issue focuses on the space business. It is a MUST READ for anyone interested in Luxembourg business or space.
To check out the Happen Magazine edition on space, check out https://www.luxinnovation.lu/global/wp-content/uploads/sites/3/2017/11/happen_2017.pdf.
Interested in Luxembourg's space market? Visit http://www.spaceresources.public.lu/en.html.