Significant portions of these Luxembourg citizenship updates are out of date as of December 2020. We live in a fast-moving world in the context of Covid-19.
We are committed to bringing you the latest citizenship updates from Luxembourg. Find out the latest on applying for dual citizenship through your family origins. Have a question on any of this information? Contact us.
General Updates
Covid-19 in Luxembourg
As with many places in Europe and elsewhere, Luxembourg has entered a "second wave" of the Covid-19 pandemic since October. The incidence of Covid-19 in Luxembourg at this time is elevated. According to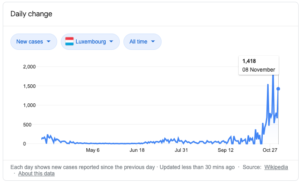 the European Center for Disease Control, Luxembourg is currently reporting 1,413 cases per 100,000 residents over the last 14 day period (valid as of November 8th, 2020). Luxembourg does have nearly the highest level of Covid-19 testing per resident in the world. While these numbers appear alarmingly high, it is important to keep in mind that testing numbers vary hugely from location to location.
For context, on November 9th, Luxembourg reported 180 new cases (although this is much lower than previous days), 5 new deaths (193 total), 10 new patients in hospital care (168 total), 4 new patients in intensive care (40 total), a positivity rate of 16.68% of all testing executed, 9,118 active cases, and an effective virus reproduction rate of 0.82. While the overall trend does seem alarming, it is worth noting that it appears in recent days that the numbers are stabilizing.
New Measures
In light of the so-called "second wave" of the Covid-19 pandemic in Luxembourg, the Government has taken a number of measures that affect day-to-day life in the country. The current measures came into effect on October 28th, 2020. For the measures that are most likely to affect non-resident visitors:
-General curfew from 11:00 p.m.-06:00 a.m.
-Restaurants remain open but are able to seat a maximum of 4 guests per table
-Wearing a mask is obligatory in public (open-air) spaces
-Workers are encouraged to work from home in all possible circumstances
Media reports in Luxembourg indicated that the Government intended to declare a new "state of crisis" (equivalent to "State of Emergency") on November 7th, 2020. This would have been followed by some form of "lockdown". In the end, this did not occur, but could still occur in the future if the situation worsens. At the current time, all of Luxembourg's neighbor countries, France, Germany, and Belgium, have in place some form of a new lockdown or a prolonged state of emergency.
For the latest official government information on Covid-19 in Luxembourg, please visit https://www.covid19.lu/.
Travel to Europe and Luxembourg
Since August 21, 2020, it has been possible for non-EU nationals to travel to Luxembourg so long as they have a negative PCR Covid-19 test within 72 hours of taking their flight. To date, across our nearly 700 clients, no one took advantage of this possibility to travel to Luxembourg. LuxCitizenship does not take a position on if it is "safe" to travel to Europe or Luxembourg in light of the Covid-19 pandemic. However, we do want to make clear that the Covid-19 incidence in Luxembourg is currently 28 times higher than the European Union level at which it becomes inadvisable to travel to a region.
Additionally, we regret to share news that the famous Luxembourg Christmas Markets or Winter Lights won't happen this year.
We receive many questions about when it will be feasible to travel in 2021. Unfortunately, no one can predict the situation. This is out of human control. One might consider that the only way to make an informed decision is to wait until the so-called "second peak" gets back down to a manageable rate (50 cases or less per 100,000 residents vs the current 1,413) before beginning to make travel plans.
For more information about the evolving Covid-19 situation in Luxembourg and around the world, visit RTL Today.
Government Operations in Luxembourg
Unlike during Luxembourg's Covid-19 lockdown earlier in March-May 2020, Government offices will not be officially closing in Luxembourg for the time being. The Bierger-Center does remain open in Luxembourg City. However, since the announcement to work from home on October 28th, 2020, we have found that Government operations at the Municipal and National government offices are generally disrupted. In particular, offices issuing vital records in Luxembourg seem impacted. The Ministry of Justice is still open and processing cases, however, significant social distancing and worker capacity restrictions are in place. So far, we have not noticed a slow down in emails about case processing from the Ministry of Justice.
However, we do know that Ministry of Justice workers are unable to take case documents off of Government property. They are therefore unable to process cases from home. If we notice that case processing starts to slow down, we will notify our clients affected via our permanent case processing information pages (available to all clients who have already submitted a case).
United States Postal Service
Over the summer and fall, we reported that the average processing time for mail delivery from Luxembourg to the USA increased from 21 days to approximately 85 days. Over October, the processing time returned to normal at 25 days. We do believe that this was in anticipation of the United States election. We will continue to monitor trends to see if postal mail processing time slows down again in coming months.
LuxCitizenship Updates
At our last check-in in late August, we reported our busiest months ever in July and August. Well, little could we have known that October 2020 would see 4 times the influx of new clients as in July and August. Our community is now nearly 700 dual citizens and future dual citizens strong. We want to express our continued gratitude for all of your support.
We have a few more concrete updates at this time. Back in September, the coworking space where LuxCitizenship is located in New York City was forced to shut down. We had short notice due to tenants vacating because of Covid-19. We have now moved office to 41 Madison Avenue, 31st Floor, New York, NY 10010. Please update all your records accordingly. Our telephone number remains the same.
At this time, we also want to announce here that LuxCitizenship will be taking a hiatus from November 16th, 2020. Starting November 16th, we will not be taking new cases. Our Founder Daniel Atz is going on leave for a separate project. We expect to provide an update on when LuxCitizenship will be back to normal operations in our next blog post in January 2021. This hiatus will not affect cases signed and active as of November 16th, 2020. The LuxCitizenship team will continue to process existing cases as normal. We will also permit any existing cases to add additional family members during this period.
---
Citizenship Updates: Article 89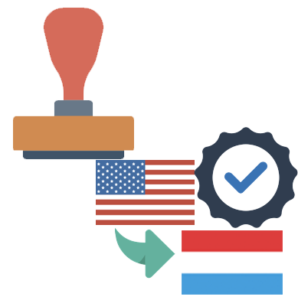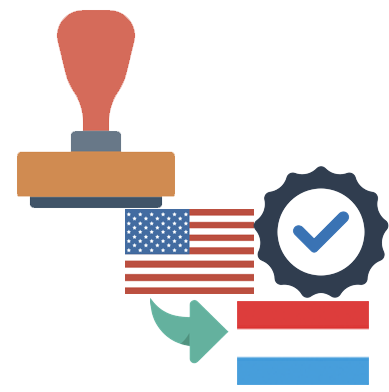 In August-September, the LuxCitizenship team contacted all clients to request that they deliver to us copies of their birth and marriage certificates for translation. If you have received a copy of your birth certificate and have not yet sent it to us, please do. We would very much appreciate it if you can do so by the end of 2020. Please contact info@luxcitizenship.com.
Did you send an initial, but incomplete, Article 89 case to Luxembourg before December 31, 2018 AND send the final missing documents in late 2019 or early 2020? The Ministry of Justice has indicated that they expect to send you your Luxembourg Ancestor Certificate a few weeks after New Year 2021.
---
Citizenship Updates: Article 7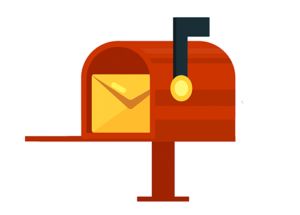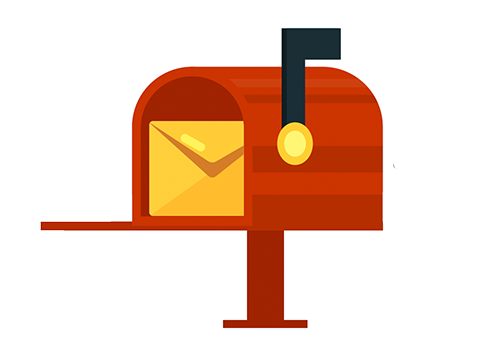 Currently, the Ministry of Justice is reviewing cases submitted in October 2018. Clients whose cases arrived in Luxembourg in August 2018 are receiving their Nationality Certificates in the US currently. We generally notice an uptick in the case processing time speed. However, we do note that with the complications from Covid-19 in Luxembourg, or if the USPS processing of international mail slows down again, this could prolong the process again.
Barring any effects from the USPS or Covid-19, if you applied in early October 2018, we expect you to have your results in late January 2021. If you applied in late October 2018-early November 2018, February 2021. Late November – Early December 2018, March 2021. If you do not remember when you applied in 2018, you can contact us for confirmation of the date.
---
Citizenship Updates: Article 23 Citizenship by Option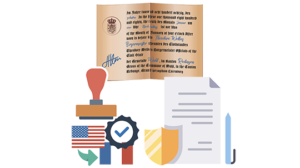 There is good news for individuals with a parent or grandparent that has or had Luxembourg citizenship (nationality). You can obtain Luxembourg citizenship by option. For the citizenship by option process, there is no application deadline but travel to Luxembourg is required. It normally takes the Government in Luxembourg only 1-3 days to process a request for a Parent or Grandparent Nationality Certificate. You must also account for mailing time to the USA. This processing time also applies to those applying under the 7-23 Posthumous Recognition of Citizenship by Option. Please note that these processing times can be affected by Covid-19 shutdowns and/or delays in USPS processing time.
On August 26th, 2020, the Ministry of Justice enacted a number of reforms affecting applying for a Parent or Grandparent Certificate of Nationality. It also affects adopted individuals applying under Article 23. We contacted all our clients about these procedural changes and updated their cases. At this time, we have no outstanding cases dating from before August 26th, 2020 that have not yet submitted their applications to Luxembourg.
---
Passports
The Passport Office in Luxembourg has restarted normal operations from 08:00 a.m.-4:00 p.m. Monday-Friday. This could be affected by future state of emergency orders if enacted at any point. The Embassy and Consulates of Luxembourg in the United States have limited operations due to Covid-19. However, it is possible to apply for a passport with justification for why you need it in the short term. This remains the plan for the foreseeable future. If you have a demonstratable urgent need for a Luxembourgish passport, IE you are planning to move to Europe imminently, you should call the respective office for your address to see if arrangements can be made.