We share some of LuxCitizenship Founder Daniel Atz's favorite places to get a drink in Luxembourg, as well as popular spots to take in its nightlife. 
Our Recommendations on Where To Grab a Drink in Luxembourg
Specific Bars & Restaurants
Paname
For cocktails with a New York-feel, Daniel suggests Paname – a cocktail bar on Place de Paris. This is a good place to go to get all kinds of different cocktails, spritzers, aperitifs, Luxembourgish Crémant, and draft and craft beers from Luxembourg. This is also a place to see and be seen; it has a large outdoor seating area on the Place de Paris square.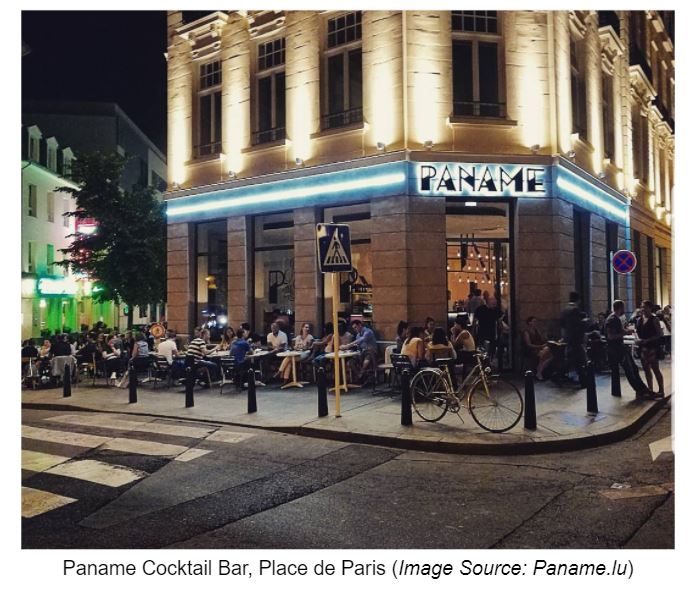 Bazaar
Bazaar is another cocktail bar and restaurant that is situated between the Bierger-Center and the Grand Ducal Palace. This is an excellent place to stop for lunch or for a drink to top off the end of the day. In terms of food, the restaurant serves contemporary European cuisine. Stop inside or enjoy your drink or meal on the large terrace which gives way on to Place Guillaume II (where the Bierger-Center is located).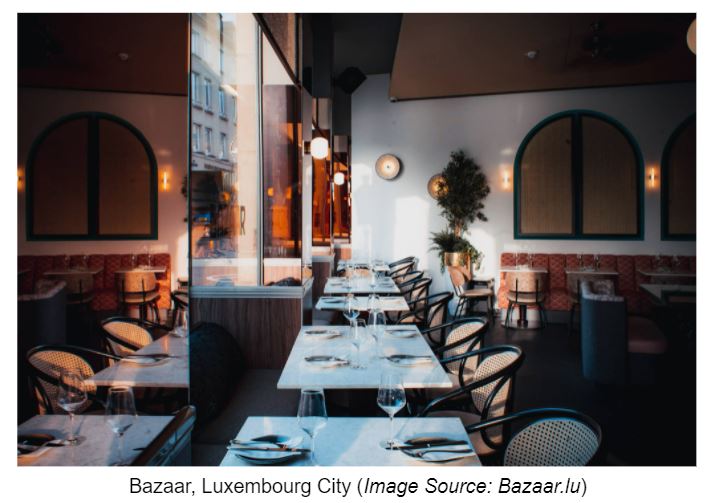 The Store
Are you or someone you're traveling with a craft beer lover? Located on Avenue de la Liberté in the Gare quarter of Luxembourg City, The Store is a great place for beer-lovers to try various craft beers from Luxembourg. True to its name, The Store is first and foremost a store to pickup craft beers. But there is also seating outside with table service. The vibe here is very low key and family friendly. The Store also has a coffee bar inside.

Bouneweger Stuff
If you are staying in the Bonnevoie neighborhood or just generally visiting the area, you might want to make a stop at Bouneweger Stuff. Daniel recommends Bouneweger Stuff for a casual drink.  
Neighborhoods With Multiple Spots To Dine & Grab A Drink
There are also certain areas of Luxembourg City where you can go to get a drink and hop around to different places. Two minutes from the Bierger-Center is the Place d'Armes, one of the main squares in Luxembourg City. The square is made up of all restaurants that run the gamut from Burger King to several French brasseries. In the center of the square, each restaurant has an outdoor seating area for all seasons. Locals come here to grab an Aperol spritz or a glass of wine or beer. Take your time, people watch, and eventually stay for dinner if you'd like.
One place in particular that Daniel recommends for its food is Brasserie du Cercle, which offers standard French brasserie fare (hamburgers, steaks, salads and more). 
Another popular area to grab a drink is Clausen in The Grund – a picturesque area situated on Luxembourg City's Alzette River. This area is one of Luxembourg's main spots for nightlife and has several different bars and restaurants, a brewery, and several sports bars. Whether you're looking to grab a drink or not, it's worth a stop by just to get a feel for the area and see the architecture.
If you're looking to get a taste of Luxembourg's nightlife, we also have a couple of different suggestions. In terms of music venues, there is Den Atelier in Luxembourg City, as well as the Rockhal in Belval (Esch-sur-Alzette), which is located next to the University of Luxembourg. The Rockhal is actually the biggest concert venue in Luxembourg, so when you're visiting, you can take a look at their schedule if you enjoy attending concerts.    
In Luxembourg City, you can also check out the venue Ground, which is a small nightclub with international DJs. Or, stop by Melusina, which is next to Clausen and has a large outdoor space that typically features popular music late at night.    
Stay tuned for more suggestions in the coming weeks on what to do when visiting Luxembourg. You can check out our Visit Luxembourg resource page for articles and videos and our Luxembourg blog for even more!