College at the University of Luxembourg presents affordable and high-quality education options to prospective students.
College in Luxembourg
Luxembourg is a country that places humongous value on college and other education. However, until 2003, Luxembourg had no university of its own. As a result, there has been a long history in Luxembourg of sending students abroad with great financial aid programs.
Since the 2003 inauguration of the University of Luxembourg in Esch-Belval, near Esch-Sur-Alzette (45-minute train from Luxembourg City), Luxembourg put a huge focus on developing international renowned programs and exchanges at the trilingual university. We here at LuxCitizenship think the University of Luxembourg itself merits a visit to take in what Luxembourg is doing to prepare itself for tomorrow. The modern architecture up against the old steel mill structure speaks to both the history and future of Luxembourg. Also, the general energy around the campus speaks for itself. It helps that the country's biggest concert venue is on the campus.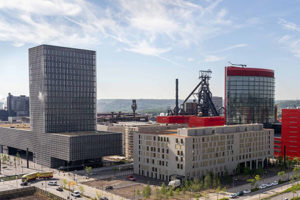 College at the University of Luxembourg
The 15-year-old University of Luxembourg is considered one of the best young universities in the world (11th for 2017 according to Times Higher Education Young Universities & 178th overall university worldwide). As one of the most international universities in Europe, the University of Luxembourg maintains close relations with EU institutions. It also participates in the debate on Europe's future. As a motor of the national research and innovation system, the University also gives strong support to entrepreneurial activities. It is closely connected to Luxembourg's industry and the country's multicultural community. As a result, it has an aim to support the creation of a knowledge-based society. Moreover, with tuition at 400 Euros (500 dollars) per semester freshman year and 200 per semester thereafter, it could be a welcome opportunity for many Luxembourg dual nationals.
Beyond that, as stated above, as a Luxembourg citizen, the government considers students for substantial financial aid packages. These packages more than cover the low-cost tuition. For Luxembourg citizens who spend a longer time living and working in the country (minimum 6 months), student aid is also available for support in studying abroad short-term or for the duration of one's studies. However, you normally can't use it for study programs in the USA that already provide financial aid.
For more information about college at the University of Luxembourg, please visit https://wwwen.uni.lu/university/about_the_university.
Resources publish information about Luxembourg state student aid programs in French, German, and Luxembourgish. For questions on Luxembourg student aid programs, please contact the LuxCitizenship team.