Luxembourg is a very multilingual little country with three official national languages, French,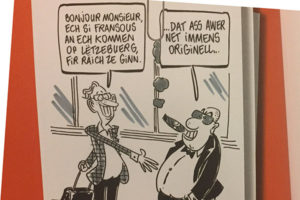 German and Luxembourgish. Banned by the Germans in World War 2 and often seen as a marginalized local dialect, recent cultural trends in Luxembourg
have seen a renaissance of the Luxembourgish language in Luxembourg. While still on the UNESCO list of "Endangered Languages" the study of the Luxembourgish language is on a major uptrend. Outside of citizenship "recovery" for individuals with Luxembourg ancestry, Luxembourg citizenship by naturalization for foreigners living in Luxembourg is in many ways tied to the learning and mastery of the Luxembourgish language.
So, what is Luxembourgish you ask? Luxembourgish is a West Germanic (called by Linguists Moselle Fraconian) language that is spoken mainly in Luxembourg. In summary, it is a cousin of German with a fair deal of French mixed in. About 390,000 people speak Luxembourgish worldwide. One of the biggest challenges Luxembourgish faced over its history was a lack of recognition and written standardization, effectively there was no agreed system of spelling for the language until the mid-1940s and no final agreement was in place until the 1990s. Moreover, the language was not even an official national language until 1984.
Recently, Luxembourg's government has published a 40-point action plan to protect the language and petitions to protect the status of the national language have reached nearly unprecedented participation levels. All the same, only 7% of books published in Luxembourg in the last year were in Luxembourgish.
Interested to learn Luxembourgish? Most educational materials are published in French, but for a great resource on the language you can check out in English please take a look at Liz Wenger's Learn Luxembourgish. Is a great place to start, she also offers online skype courses in Luxembourgish.
http://learnluxembourgish.com/
EDIT November 2017: There is now an app similar in style to DuoLingo for learning Luxembourgish. 365 Days Luxembourgish https://www.languages.lu/single-post/2017/11/14/365-Days-Luxembourgish—the-App-launched-at-LID2017