In this article, we discuss the process of declaring residency in Luxembourg as a dual citizen and why this step is so important.
How do I declare my first residency in Luxembourg as a dual citizen through ancestry?
LuxCitizenship's founder Daniel F. Atz moved to Luxembourg at the start of 2021. Luxembourg is the 8th country in which Daniel has lived and the fifth country in Europe he has moved to and worked in as a Luxembourg dual citizen. Since arriving in Luxembourg, Daniel has realized that dual citizens experience unique challenges. Daniel has started writing about being neither a "native-born citizen" nor an "immigrant". This article is the first in a series. It is informative in nature. Daniel will be publishing personal accounts of his experience in Luxembourg starting in late April.
EU Countries Require Residency Declarations
United States citizens might be surprised to learn that in many European Union countries, citizens and immigrants alike have to declare where they live to the local police or city hall when they move in. In Belgium, for example, the police even come to verify you're there and that the house is safe. Luxembourg has its own rules.
Why Residency Registration Matters
Just like in the US, many of us don't make it to get a new driver's license within 90 days of switching states. It is definitely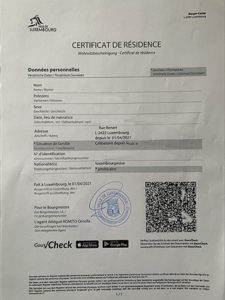 possible to miss out on the rules and just skid by. Luxembourg doesn't magically know you have arrived. They trust you to follow the rules. But you really should. Let me give you a very clear reason why. When you declare residency, you get a residency certificate.
I take as an example the outbreak of Covid-19 in Europe. Europe cared more about where you lived than your citizenship when it came to deciding whether they would let you in. We are aware of dual citizens through ancestry who had a Luxembourg passport who tried to travel into Europe on that passport. The customs officer noticed from the passport that they were born outside Europe, lived in that country, and had a passport from that country. That person did not have proof of a permanent residency in Europe (residency certificate) and was forced to go home.
How Residency Works in Luxembourg
When a Luxembourgish or European citizen moves to another town in Luxembourg, they must inform the town hall (French: Commune/Luxembourgish: Gemeng) within 8 days. Non-European citizens, including dependent spouses or children, must be declared to the town hall within 3 days of arrival. This includes both minors and adults. Most Luxembourgers can do this online via MyGuichet, but this requires a LuxTrust ID and precludes that you have already lived somewhere before in Luxembourg.
So, what happens if you have never lived in Luxembourg before? You must personally go to the Town Hall in person to declare your first residency in Luxembourg. If you live in Luxembourg City, you go instead to the Bierger-Center. To find this information, you need to look up an article on Guichet.lu. Guichet is the Luxembourgish Government website for all citizen matters. But, if you look up this article, you see it is under the section "Immigration."
Note that as a dual citizen, you are not a "foreigner" or "immigrant" to Luxembourg. You are actually considered Luxembourgish. However, you also are not originally from Luxembourg nor did you grow up there (at least most of us). It might be no surprise, but there is no website for "us" who fall in the other category. This can be really confusing.
So, what do I need to do?
Once you are physically present in Luxembourg and believe you will stay in Luxembourg for longer than six months, you must declare to the Town Hall within 8 days (even if you're staying in a hotel). As a citizen, this rule is really golden and applies from the moment you are on the territory. If you don't come with the intention to stay in Luxembourg, say if you happen to come to Luxembourg as a tourist or on a whim and decide to stay longer, you should declare as soon as you are staying in a fixed location in Luxembourg. In any case, you should declare your presence no later than 90 days. This remains true even if you're only staying temporarily in different places without the intention to stay longer than six months.
Please note that having a visitor/tenant declaring residency can have tax implications for Airbnbs, Hotels, and Apartment owners. So, always make sure with your host that it is ok for you to declare residency.
Declare Residency in Luxembourg City
To declare residency in Luxembourg City, you just need to go to the Bierger-Center with your Luxembourg passport.
The instructions say Passport and not ID Card. You take an "A" ticket at the ticket machine in the entrance of the Bierger-Center and wait to go to the counter when your number is called. Next, declare "on your honor" to the Civil Servant that you have moved to Luxembourg for the first time. He or she will ask you for the address. You do not need to bring proof of residence. You just need to know it. After you declare on your honor, the Civil Servant will have you sign a Declaration of Arrival. Then, they'll provide you with several Certificates of Residency for your record.
We should note that all the civil servants normally speak English (as well as French, German, Luxembourgish, and probably Portuguese). The Bierger-Center is the center of citizen services in Luxembourg City. If you have questions, ask them! But don't expect that just because you're a dual citizen through ancestry that doesn't know Luxembourg's rules that they're going to just volunteer information you need to know. You're a citizen here. This means you're expected to know the rules and they assume you do. If you don't know something, ask!!
Declare Residency in Another Town
We have been told that in smaller towns in Luxembourg, they do want proof of residency to make your residency declaration. This normally comes in the form of a lease or deed for a house. It could also be a certificate attesting that you are staying with friends or family.
DECLARATION OF REGISTRATION: NOT THE SAME THING & NOT FOR YOU
If you're this far into the article, you've probably also read the official instructions on Guichet.lu. But that page is written for Luxembourgers moving from another town, European nationals moving to Luxembourg for the first time, and non-European foreigners moving to Luxembourg. Notice something? You don't exactly fit into any of those categories. The closest one appears to be European nationals moving to Luxembourg for the first time. If you read this section on Guichet.lu it states that
"Within 90 days of their arrival in Luxembourg, the declarant must also complete the following, with the same communal administration a declaration of registration"
IT IS ESSENTIAL TO KNOW THAT THIS DOES NOT APPLY TO YOU! CONGRATULATIONS! A declaration of registration is for all foreigners moving to Luxembourg to prove within 90 days why they are in the country and to obtain a Social Security Number. You will also notice that the form is issued by the Government's Immigration Direction. You are a Luxembourger, not a foreigner. Citizens already have a social security number. Because you are not a foreigner, you are entitled to be on the territory of Luxembourg no matter what (which even for other EU citizens is not always the case).
Once you complete your Declaration of Arrival / Residency you have fulfilled your duties. The next step is getting your social security number active by affiliating with one of the Caisse de maladie. This entails getting employed, starting a business, starting studies, etc. That information will come in another article.