The Crown Prince of Luxembourg Guillaume de Luxembourg (also known as the Hereditary Grand Duke Guillaume) and his wife Princess Stephanie have concluded a visit to New York City. Over a one-week period, the princely couple attended several functions throughout the city. These included two high-visibility Luxembourgish community events geared towards new Luxembourgers:
Luxembourg Business Awards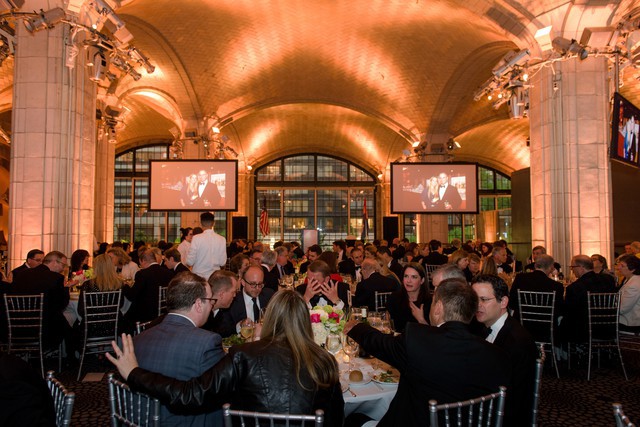 The Luxembourg Business Awards are a biennial black-tie gala dinner event honoring business successes between Luxembourg and the United States. This year's edition was held on May 15th at the historic Guastavino's venue near the United Nations headquarters. Most noteworthy, over 300 guests were in attendance. These guests included, among different dignitaries, Deputy Prime Minister Etienne Schneider, the Ambassador of Luxembourg to the United States, and the Ambassador to the United Nations. The awards went to honor Amazon for its huge investments in Luxembourg. Similarly, they honored Sacred Heart University (Ohio) for 50 years of presence in Luxembourg. The Crown Prince and the Deputy Prime Minister gave out the awards.
Reception at the Consulate General of Luxembourg
Even more, later in the week, the Princely couple held a private reception at the Consulate General of Luxembourg. Here, they also honored 30 individuals who have recovered Luxembourg nationality (new Luxembourgers). During the intimate reception, the Crown Prince delivered remarks to the group. He spoke of Luxembourg and its history with the USA. The Prince and Princess then took the opportunity to meet with each and every participant at the event. It was a very diverse event. Individuals from as far as Brazil and Minnesota were in attendance, ages 2 to 90.
Furthermore, photos of the Luxembourg Business Awards are the property of the Luxembourg American Chamber of Commerce. To view the full galleries, please visit: https://www.laccnyc.org/photos/set/latest/?q=ba2018.