The Luxembourg-American Business Awards are a biennial high-level dinner gala held in New York City which highlights achievements in the business exchange between Luxembourg and the United States.
The Business Awards are organized by the Luxembourg American Chamber of Commerce, a not-for-profit or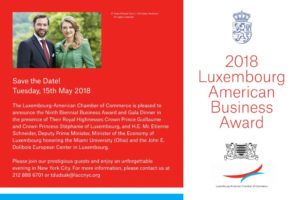 ganization based in New York which brings together Luxembourg businesses in the USA and American businesses which have a commercial interest in Luxembourg.
This 9th biennial addition of the business awards will be held in the presence of Their Royal Highnesses Crown Prince Guillaume and Crown Princess Stephanie of Luxembourg, honoring the Miami University (Ohio) and John E. Dolibois European Center in Luxembourg. The event will be held on May 15th, 2018 at the historical venue Guastavino's, near the United Nations headquarters.
For more information and to sign up, please visit http://laccnyc.org/