It can be intimidating to travel to a new country if you have food allergies or dietary restrictions. We want to share a bit of what we've learned.
Navigating Food Allergies and Dietary Restrictions in Luxembourg
We know that traveling with food allergies or dietary restrictions can be one of the biggest challenges when embarking on a trip abroad. We want to reassure you that in Luxembourg, and around Europe, there is also a keen awareness around food allergies. More and more places are also popping up designed to accommodate different dietary habits and restrictions. Most importantly, we want you to feel reassured that there are resources and places for you to eat, no matter your individual situation. Below is some general information with links to where you can get more resources.
Since 2015, in Luxembourg, as in other countries in Europe, it is a legal requirement for restaurants to present a list to their customers of 14 allergens that may be present in their food. Generally speaking, you will find that most restaurants in Luxembourg have English-speaking staff. If you have concerns about potential allergens in what you're ordering, do not hesitate to ask.
The 14 allergens that are included in the European regulations are:
Cereals containing gluten and products

Crustaceans and products

Eggs and products

Fish and products

Peanuts and products

Soybeans and products

Milk and products (including lactose)

Nuts (i.e. almond, hazelnut, walnut, cashew, pecan nut, brazil nut, pistachio nut,

Macadamia nut, and Queensland nut) and product

Celery and products

Mustard and products

Sesame seeds and products

Sulphur dioxide and sulphites

Lupin and products

Molluscs and products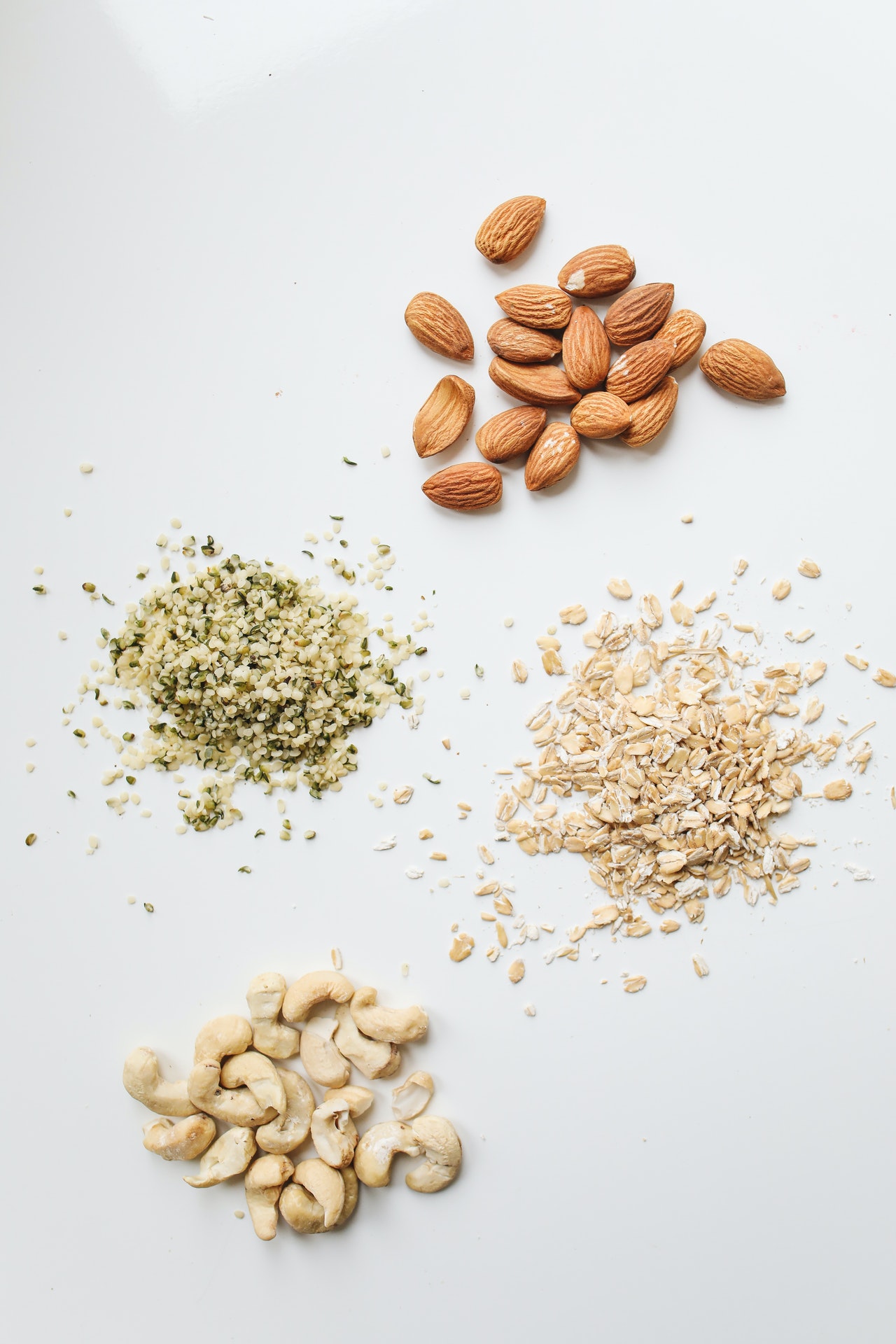 Dining Out with Celiacs and Gluten Intolerance
There is an ever-increasing number of restaurants, food vendors, and supermarkets in Luxembourg that prepare products that are well-suited for individuals with celiacs or other forms of gluten intolerance.
Marguerite's
In terms of the best options in the center of Luxembourg City near the Bierger-Center – and where many of our clients stay when visiting – without a doubt, the most well-known option is Marguerite's Gluten and Lactose Free Café and Bakery. This spot is located just next to the Grand Ducal Palace and near the Bierger-Center. We've had several clients with celiacs report really enjoying their time at Marguerite's and knowing that everything is gluten-free. Strangely, and other blogs have noticed it too, there is no website or map listing for this business! But you can find it on the corner of Rue du Cure and Rue du Fossé. Marguerite's is a spin off business of the Chocolate House, which is a famous café just in front of the Grand Ducal Palace where you can get different sweets and chocolates. But at the Chocolate House itself the goods are not necessarily gluten free.
Naturalia and Victorine (Prepared Foods and Supermarkets)      
Other options that are good to consider in Luxembourg City include the Naturalia supermarket chain, which has a whole gluten free section. There is also the prepared foods chain called Victorine, which has a wide array of gluten free and vegan or vegetarian options. Up to 80% of the products that they sell are gluten free. Victorine also has coffee.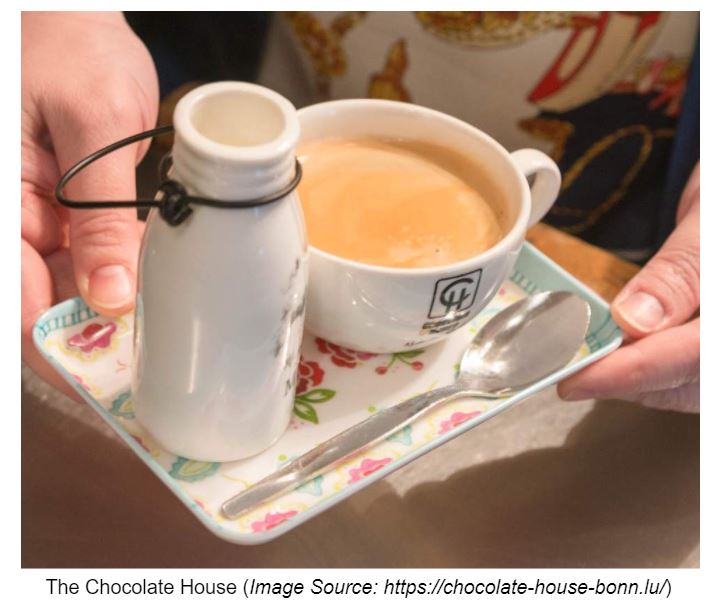 Vegetarian Food
There is a huge increase in the number of people in Europe who are keeping a vegetarian diet, and you will find a number of restaurants in Luxembourg that cater to vegetarians. You can check out this list of vegetarian restaurants put together by Luxembourg's national broadcaster RTL.
Mesa Verde, Exki, and Dean & David
One of our favorite places to find vegetarian-friendly cuisine is Mesa Verde. The restaurant is not a completely vegetarian restaurant, however, it does have many plant-based meals as well as fish. 
If you're looking for "fast" food, check out Exki. Exki is a Belgian chain restaurant that prepares ready-to-go items with an emphasis on organic food. They have many vegetarian items and all of their food products list the ingredients. This is particularly useful if you have good allergies. Exki has multiple locations in Luxembourg (and around Europe).   
You can also check out another chain that is present abroad, which is Dean & David. They have two restaurants in Luxembourg with a grab-and-go model.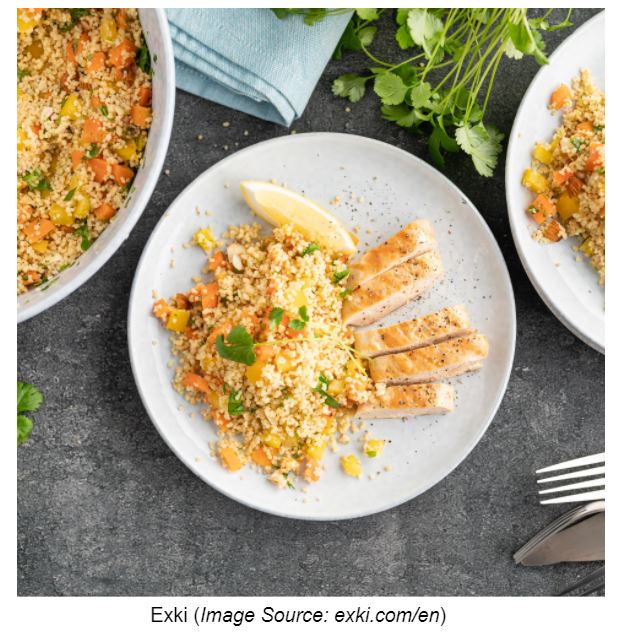 Beet, OAK, Nirvana, and Rawdish
In particular, you can check out Beet, which is a 100% vegan restaurant just next to the Bierger-Center. It's great if you're looking for a vegan option to celebrate your citizenship declaration. 
You can also check out Nirvana, which is a popular Indian restaurant near the Gare or train station that many people in Luxembourg like to visit. It's not only vegan; it's also very affordable, which is not always the case in Luxembourg. 
There's also the restaurant OAK Bistro, which has plant based, gluten free, and palm oil free options. Or, if you're looking for another ready-to-go spot for vegan options, you can check out Rawdish on Place de Paris near the Gare train station.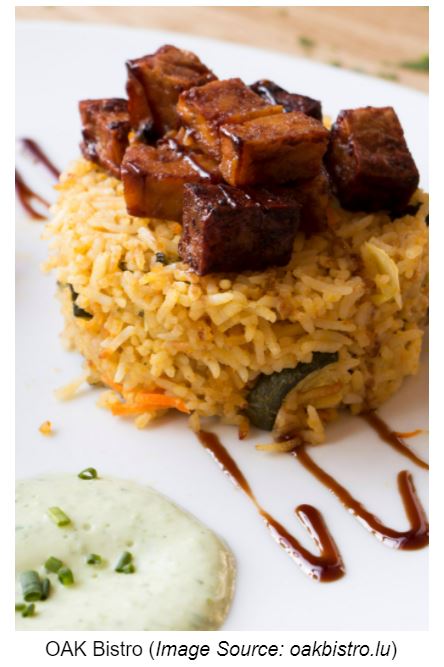 For more updates on dining and restaurants in Luxembourg, check out our Visit Luxembourg resource page. We'll be posting updates throughout the summer. There, you can find articles on where to get a drink in Luxembourg, where to eat, and recommendations for international food!