In this article, we take a closer look at Luxembourg's most special Christmas traditions, including the markets, Gluhwëin, and more.
Luxembourg's Christmas Season
Despite the sometimes gloomy weather, Christmas is one of the most romantic and special times to visit Luxembourg. Moreover, plane tickets are at their cheapest in the winter months for budget travelers wishing to go to Luxembourg City.
Many visit the Bierger-Center and carry out their citizenship recovery there.
Markets, Gluhwëin, and More!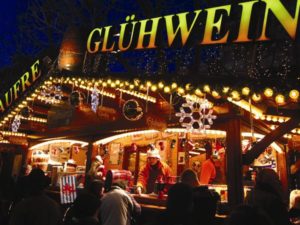 Throughout the month of December, there is no question that Luxembourg's Christmas markets are king. Featuring handicrafts, traditional foods, Gluhwëin (mulled wine), live bands, and even fair-type rides (in Luxembourg City), these Christmas markets pop up all over the country. It's certainly a sight to see.
Any visit to a Christmas market provides an opportunity to enjoy Gromperekichelcher (potato cakes), Lëtzebuerger Grillwurscht (local sausages), Glühwäin (mulled wine), and Kniddelen (tradition flour dumplings with apple compote, cream, and bacon). See below for an overview of the many Luxembourg City Christmas Markets as advised on Luxembourg.public.lu:
The Cosmopolitan Christmas One: Place de la Constitution
In this great location overlooking the Adolphe bridge, more than 60 wooden chalets will be set up next to the Gëlle Fra monument. With a host of culinary specialties and crafts from all over the world, this market is the perfect place to find out about Christmas traditions in other countries. Top off your experience with a trip on the big wheel while sipping a cup of warming mulled wine and enjoying sensational views of the Pétrusse valley.
The Traditional Christmas One: Place d'Armes
Come to the Place d'Armes for a typically Luxembourgish Christmas atmosphere, with stands offering local crafts, Christmas decorations, clothes, and accessories. Sample traditional local cuisine ("Gromperekichelcher", "Grillwurscht", and "Bouneschlupp") to the strains of brass band music. Children will enjoy the merry-go-round and duck fishing.
The Crafty Christmas One: Place de Paris
The "Niklosmaart" – a market for St Nicholas Day and Advent – can be found near the station. A dozen wooden chalets are clustered around a huge glittering tree. As well as the hot drinks and food, you will find a selection of handicrafts and holiday decorations, including candles and Advent crowns.
The Foody One: Kinnekswiss
Vendors stock this food lovers' market with a wealth of local and regional produce. The many delicacies on offer include blood sausage, snails, stuffed baked potatoes, foie gras, classy toasties, Bouneschlupp, Angus Steak sandwiches, and grilled cheese specialties. Not to mention, there's also a great selection of drinks.
What to learn more? Visit http://www.winterlights.lu/?lang=en.