Luxembourg is going through a "rebranding" (nation branding) process called "Let's Make It Happen".
Luxembourg's Nation Branding Process
Let's Make It Happen
Luxembourg is a small but proud country that is significant for its stature. In many ways, this has been thanks to the many banks, investment funds, and global corporations that make their European headquarters in the country.
To combat what it considers a "mixed image" both abroad and sometimes at home, Luxembourg launched the preliminary work behind a consultative "national branding campaign" a few years ago. The goal of the campaign was to understand how both the country's population and people abroad perceived the nation.
They also aimed to morph those perceptions into something new. After years of surveys and analyses, Luxembourg is ready to launch its newly renewed national brand under the slogan "Let's Make It Happen".
What the Brand Means to Luxembourg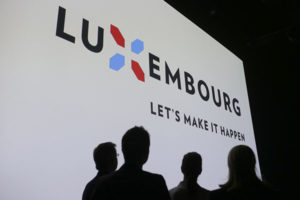 Francine Closener is the Luxembourg Secretary of State for the Economy. She unveiled the "Luxembourg: Let's Make It Happen" visual identity and tagline on Monday evening.
Closener remarked that the logo and slogan reflect the country's values of openness, dynamism, and reliability. She placed the emphasis on the "X", as Luxembourg is a crossroads of different elements.
Inspiring Luxembourg
The government also introduced the inspiringluxembourg.lu website. As a result, they'll group together existing materials, such as brochures published by different national promotional agencies, into a single site. Further elements of national government pertaining to the country promotion will undergo rebranding in line with the new brand.
Two communications agencies, Binsfeld and Vidale-Gloesener, worked on the campaign. The initiative had a total 2016 budget of €970,000.
For more information on the nation branding process, please visit inspiringluxembourg.lu.