Luxembourg is gearing up for its next legislative election on October 8th, 2023. Citizens will cast their votes for the future members of the Chamber of Deputies, with 60 deputies set to serve a five-year term.
Of all the party lists in the four electoral districts of the Grand Duchy, one candidate stands out for having recently obtained her Luxembourg citizenship through ancestry, Dr. Roberta Züge. Born in Brazil and having moved to Luxembourg three years ago, she is a candidate for the Pirate Party in the Center electoral district.
We sat down with Roberta on September 6th, 2023, for an interview. The following is based on the interview.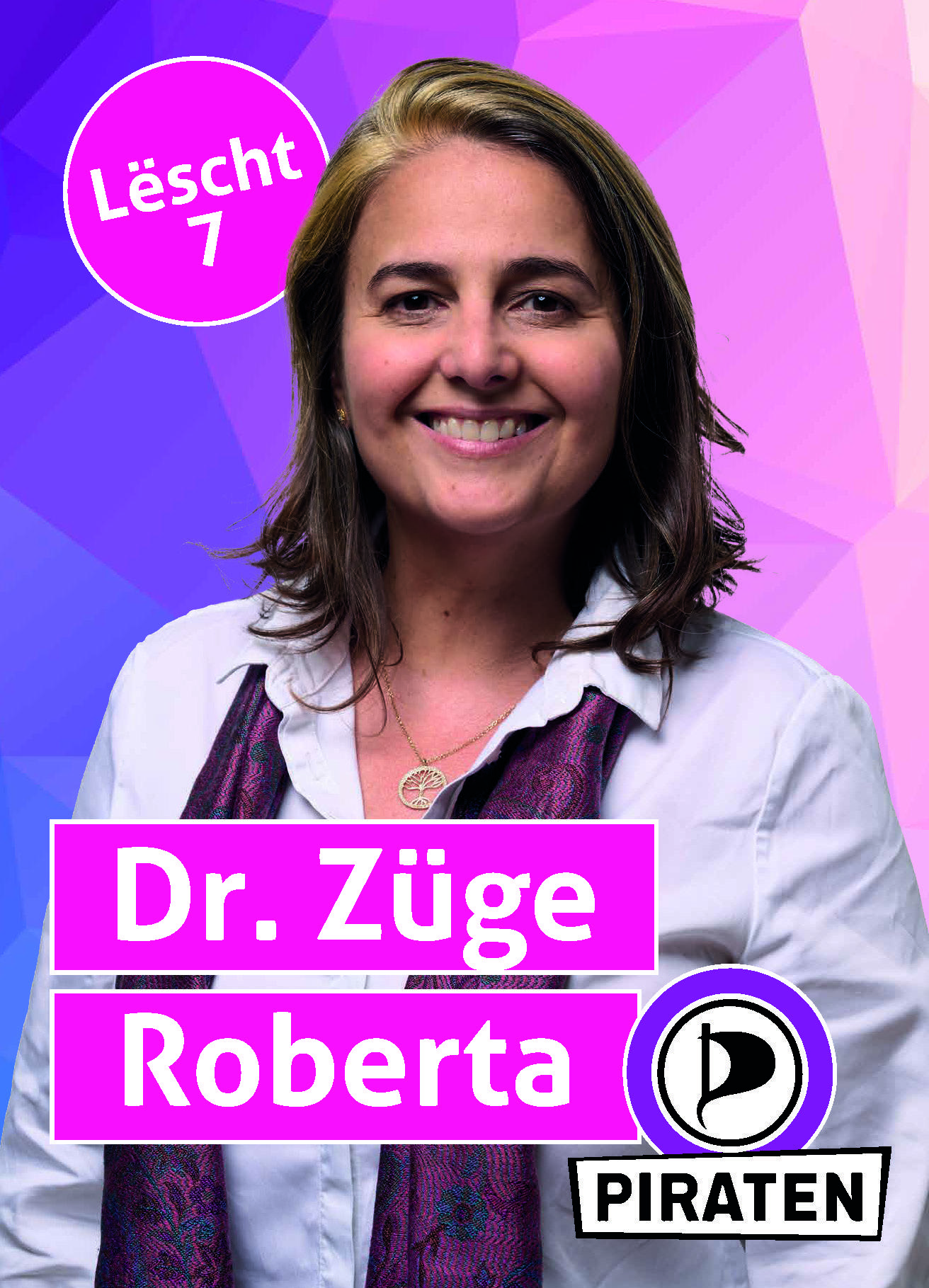 Dr. Roberta Züge's election campaign poster
A Distinguished Career in Brazil
Born in São Paulo, Brazil, Roberta pursued veterinary medicine at the renowned University of São Paulo. But her contributions weren't limited to academia. She taught at prominent universities, delved into research, and played a pivotal role in advancing veterinary science in Brazil.
During a decade at a research institute in Paraná, Brazil, Roberta worked on projects that deepened the understanding of veterinary science. She shared, "I developed a farm-to-table quality program for a facility processing 21,000 animals daily. It was a project close to my heart."
Her dedication didn't go unnoticed. Embrapa, a Brazilian federal state-owned research corporation, honored her with the title of "Best Outstanding Veterinarian" for her work with dairy cattle.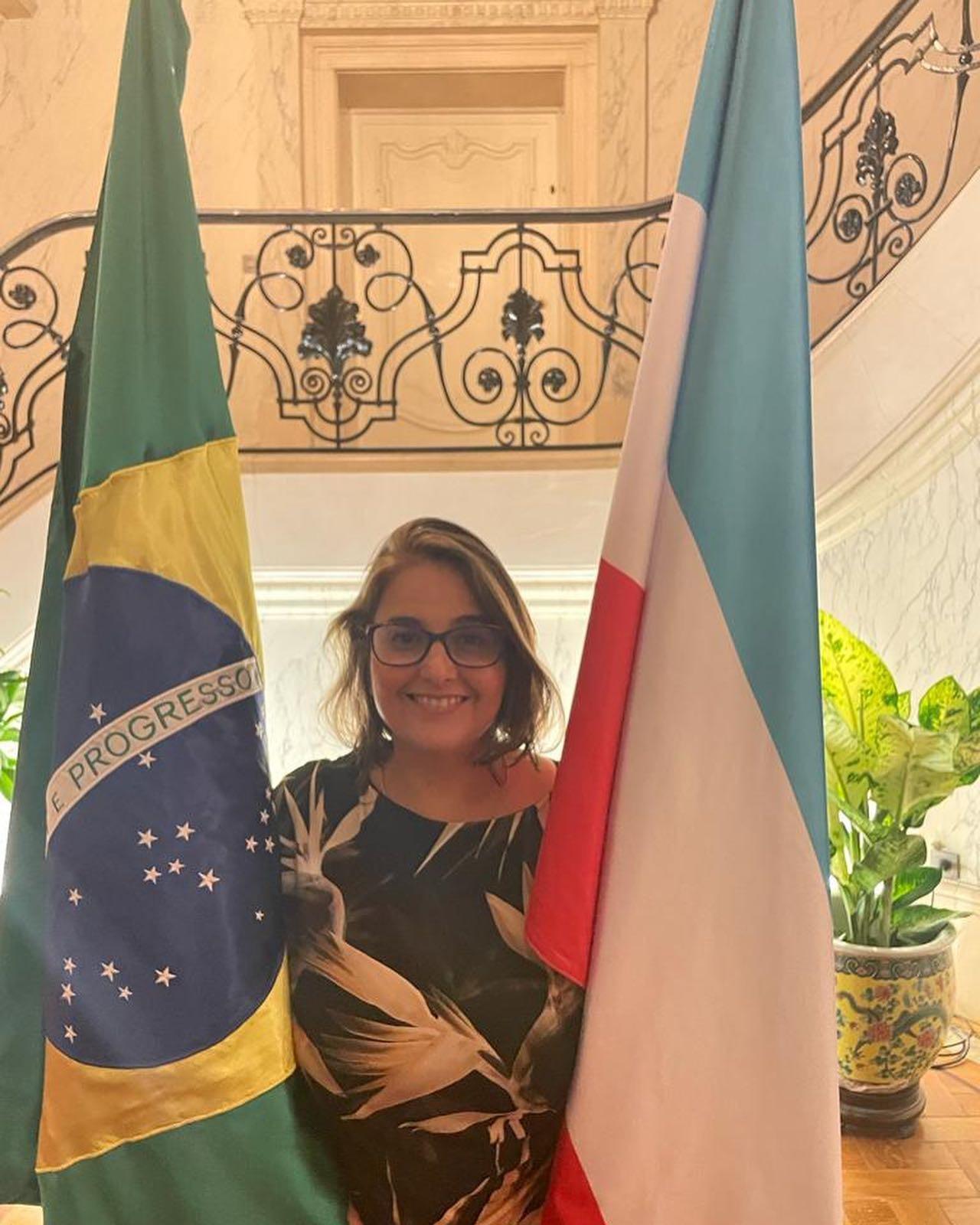 Roberta is proud to identify as both a Brazilian and Luxembourg citizen.
Discovery of Luxembourg Roots
In 2017, a genealogical revelation came via an email from a cousin. Roberta learned she could reclaim Luxembourgish citizenship through an ancestor, Nicolau Bley, an early Luxembourgish immigrant to Brazil. Nicolau's legacy is vast, with possibly over 15,000 descendants traced back to him.
Roberta made her declaration of recovery of Luxembourgish citizenship under Article 89 in October 2017. She later returned to Luxembourg to visit on multiple occasions. She eventually brought her daughter to visit in 2019. Even at age 13, her daughter Fernanda understood the educational and other opportunities moving to Luxembourg could provide her.
Challenges Faced as an Immigrant
As with many of the Luxembourg dual citizens making the move to the Grand Duchy, Roberta's decision to move was taken in consideration of her daughter's future opportunities. Roberta's journey from Brazil to Luxembourg marked a significant turning point in her life. Moving during a pandemic posed its unique challenges, limiting her ability to explore and meet new people. One of the initial hurdles she faced in Luxembourg was finding work in her field of veterinary medicine. This led her to explore opportunities beyond her core profession.
During the time she consecrated to entering the job market in Luxembourg, Roberta actively engaged with the immigrant community in Luxembourg, offering her support to those in need. Her participation in organizations that assist Brazilians and other immigrants in the country navigate the complexities of immigrant life gave her early insights into what can be a complex reality.
Roberta's involvement extended beyond the realm of work and language. She became part of the management committee of a Luxembourgish folklore group recognized by UNESCO, an honor that reflected her commitment to embracing and celebrating her adopted culture.
Navigating the Maze of Educational Recognition
Without a doubt the most challenging aspect of Roberta's own move was navigating the process of getting her educational qualifications recognized in Luxembourg. Despite her impressive credentials and extensive experience, Roberta encountered bureaucratic hurdles. Luxembourg's stringent certification requirements presented a formidable barrier.
Roberta's challenges getting her educational titles recognized through a standardized European recognition process made stories in multiple media outlets in Luxembourg. Roberta contends that it was only after her story was covered in the media that she was able to make headway in the recognition process. In total, it took Roberta approximately two years of intense work to get her doctorate from the most prestigious university in Latin America recognized in Luxembourg.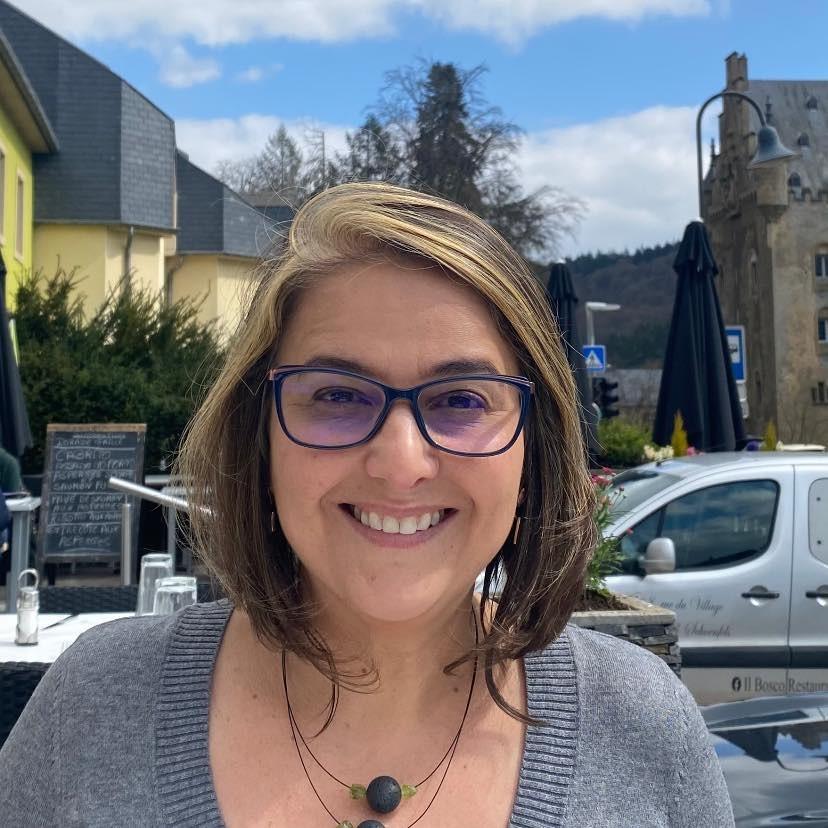 The Bold Decision to Run for Parliament
Since 2021, Roberta has made her presence known in Luxembourg, both through her appearances in the media, as well as participation on the Board of Directors of ASTI (Association de Soutien aux Travailleurs Immigrés or the Support Association for Immigrant Workers) as well as participation in her Luxembourgish folklore group, among other activities. However, it was all the same very much a surprise for her when Roberta received an invitation that would significantly alter her trajectory – an opportunity to run as a candidate for the Luxembourgish Parliament. Contemplating this proposition, she considered the potential impact on her professional career and family.
Roberta's decision to enter the realm of politics was not merely a personal endeavor. She contends, as well as many others, that this is an opportunity to represent the interests of the Luxembourg dual citizen and Brazilian communities in Luxembourg. She hopes to address issues related to integration and discrimination. Her commitment to improving the lives of immigrants in the country is a driving force behind her decision to run for office.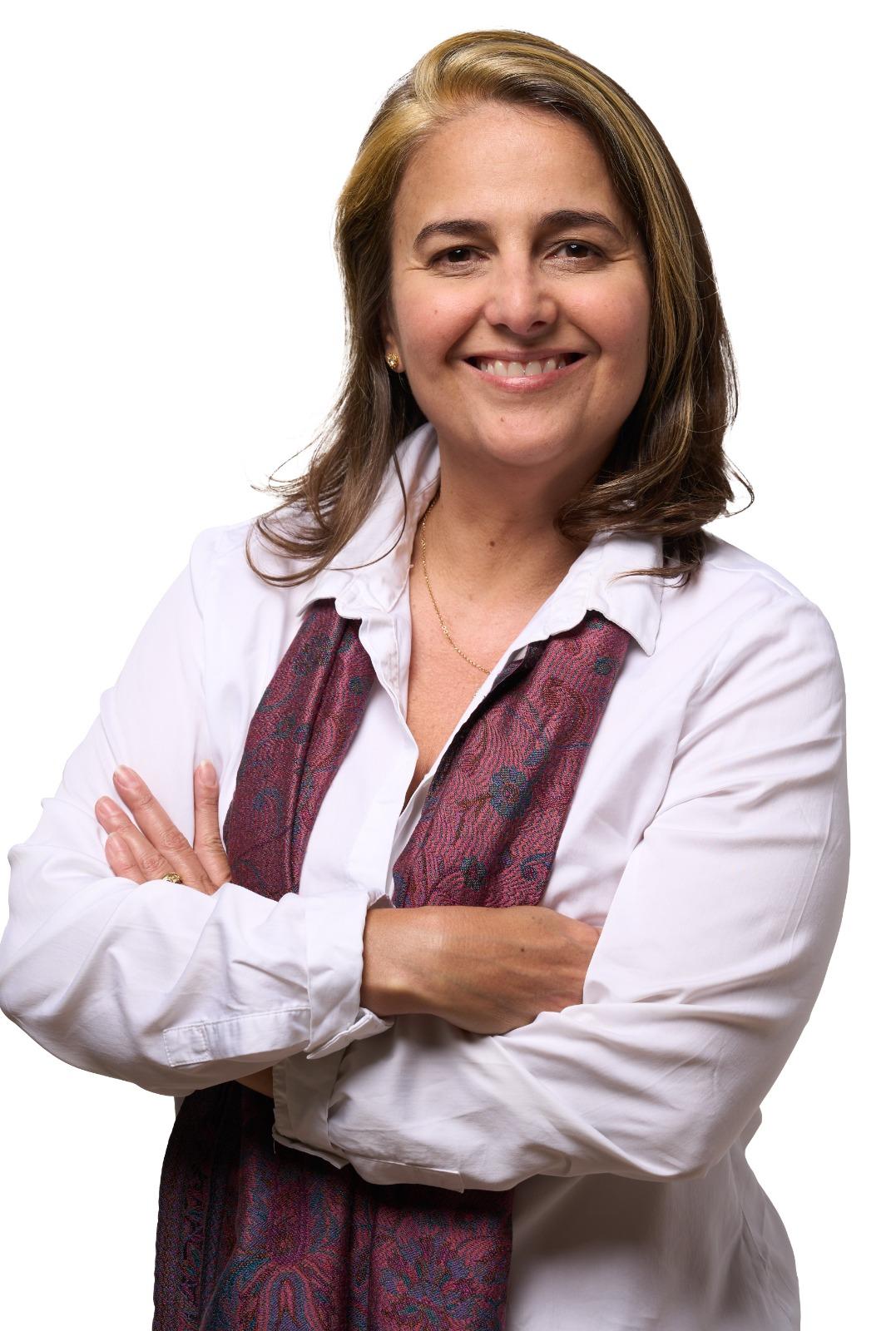 Opening Doors For Other Dual Citizens
Roberta says that one of the reasons she accepted to run for office was a local dual citizen from Brazil who said, "Roberta, you're not just running for you, you're running for all of us." We at LuxCitizenship are apolitical and don't endorse any candidates. However, we commend Roberta for having the courage to be the first Luxembourg dual citizen through ancestry to run for office in Luxembourg.
There remain big challenges in building bridges and mutual understanding between native Luxembourgers and the new citizens through ancestry born in the Americas. Roberta's candidacy brings visibility and she has the strength to go and stand on the street in Luxembourg and talk about our issues for us for anyone that comes by. Dual citizenship through ancestry was a political decision. As with all political decisions, there are people who agree and disagree. Roberta is committed to discussing about dual citizenship with any and all.