Before the Luxembourg Nationality Law as modified October 23rd, 2008 came into force, the principle of dual or multiple citizenship did not exist in Luxembourg. To bring "back into the fold" individuals who would have otherwise been able to keep and pass on their Luxembourg citizenship, lawmakers setup a program to enable the recovery of Luxembourg citizenship for anyone had a direct lineage Luxembourg ancestor alive on or after January 1, 1900.
This two-step program was written into law to last for 10 years and ending December 31, 2018. Initial signs had already proved the program's success, so through the Luxembourg Nationality Law as modified March 8th, 2017,  lawmakers extended the final deadline to appear in Luxembourg for the second stage of the process to December 31, 2020.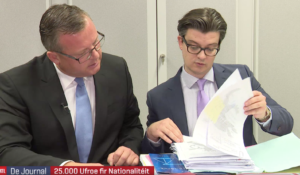 To date, 19,873 have submitted to recover Luxembourg citizenship and have fully completed the process – that's right 19,873 new citizens. Most importantly, this number does not account for individuals who have applied for, but not completed the program.
According to the Ministry of Justice, by early December 2017, over 9,000 Belgians, nearly 8,000 French, over 1,300 Americans and 1,100 Brazilians had completed the process and received citizenship. In the early part of the program, thousands of Belgians applied for Luxembourg citizenship when their own country went without a government for over a year.
While the Belgians and French applicants made up the bulk of the applications during the early years of the program, it is the Americans and Brazilians who are really making a mark at the end of the program. In October 2017, only 800 Americans had completed the citizenship process. That means that in little over a year, more than 500 Americans received their citizenship. Considering it took 9 years for Americans to hit 800, we did well over the half of that in one year.
Over 5,000 individuals have started but not completed their procedure. We're eager to see how many came from the Americas in the end!
To view the original article, please visit https://today.rtl.lu/news/luxembourg/1286272.html?fbclid=IwAR19lyTGvP7w3zVJXV08ATd6eqXm-RVrE1nyA9yN5b3AhUd8Wu7IP7Ht-v0
To view a video about the article, please visit  https://today.rtl.lu/media/rtl-today/3147277?fbclid=IwAR05WSPvJiv3BQDe0FQ1Z_fAFJsTMQTsJno8Pt4OwitDvCYcXKrhijxH1gI.