LuxCitizenship Events
A lineup of 2020 meetups and Luxembourg nationality events in America and Europe.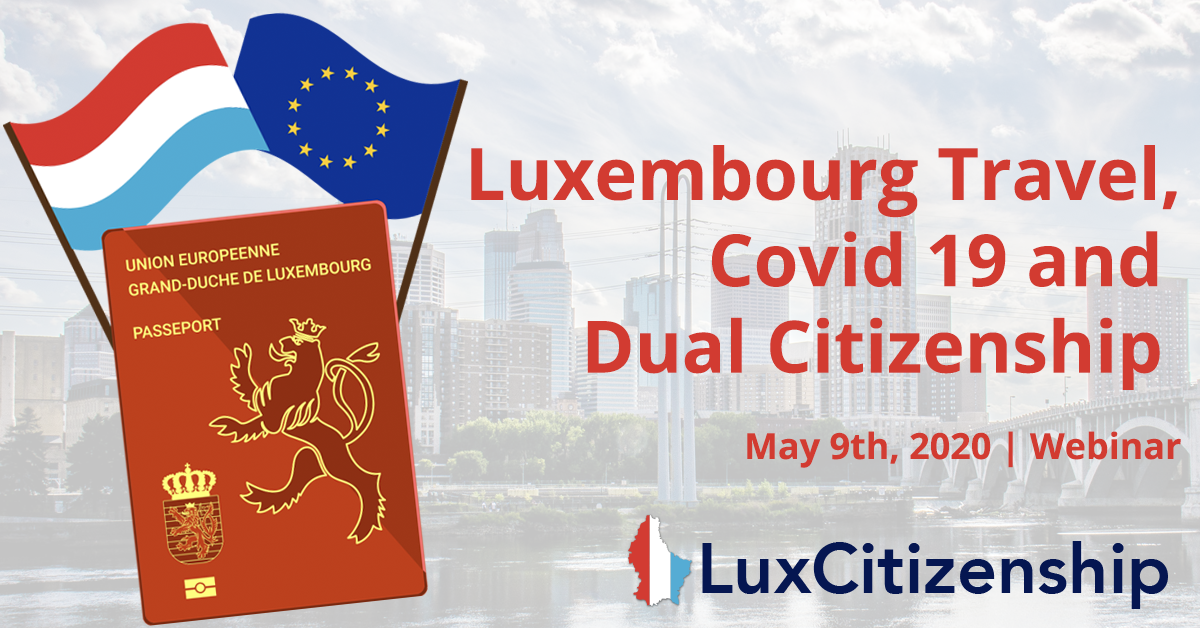 WEBINAR: Covid19, Luxembourg, Dual Citizenship
May 9th, 2020 | 1 PM Eastern
LuxCitizenship is hosting a webinar in the rup up to many European countries' initial lifting of lockdown measures.
On May 11th, many European countries will ease their coronavirus shelter-in-place orders. We believe by this time, we will have a clearer picture on the regulations which will affect sumemr travel to Luxembourg for those who need to travel to Luxembourg to complete applying for dual citizenship. Join the session to learn about the latest in Luxembourg and Europe. Updates to applying for dual citizenship. And to ask your questions about the situation at hand.
Sign Up
Luxembourg-American Events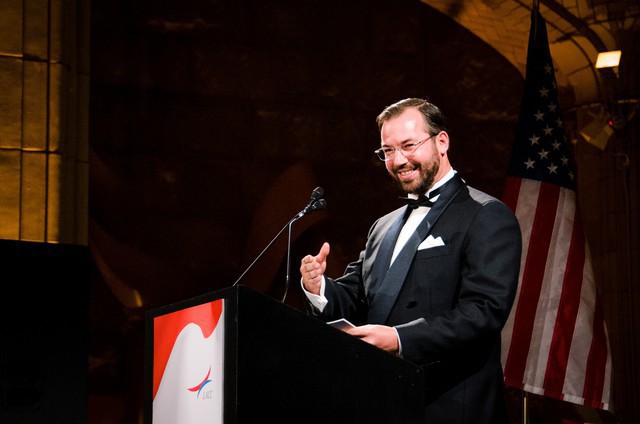 Luxembourg-American Business Awards
TBD | New York City
Postponed until June 2021.
The Luxembourg-American Chamber of Commerce organizes this high-level gala dinner once every two years. Here, the Luxembourg-American community celebrates business success between our two countries.
The 2018 edition honored Amazon and Sacred Heart University. First of all, Amazon has its European headquarters in Luxembourg. Moreover, Sacred Heart University has had a study abroad program in Luxembourg for 50 years. On top of that, Luxembourg's Crown Prince Guillaume and Princess Stéphanie, Vice Prime Minister Étienne Schneider, as well as many other Luxembourg official and business leaders all attended.
View Event
Emaischen
Canceled | Luxembourg City, Nospelt
Emaischen is a folk festival that is a uniquely Luxembourgish celebration.
Emaischen occurs on Easter Monday. It is celebrated with a festival behind the Grand Duke's Palace on the Fishmarket square. Above all this event is famous for small whistling birds called "Péckvillercher". Péckvillercher are made of baked clay. They are only sold on this special day. Traditionally, lovers exchanged Péckvillercher. But today, they are popular for all Luxembourgers. There is also a larger festival in the village of Nospelt. Emaischen is a favorite for native Luxembourgers.
View Event
Echternach Hopping Procession
June 2nd, 2020 | Echternach, Luxembourg
The 2020 session of the Hopping Procession is likely to be canceled due to coronavirus.
Luxembourgers take hopping seriously. So much so that UNESCO granted the the event Intangible Cultural Heritage status in 2010. 
Every year on Whit Tuesday, thousands of people gather to participate in this unique cultural event. Over 9,000 people come from all over Europe to hop through Echternach. The hoppers dress in white shirts and dark pants. Also they hop to a polka melody.  Almost everyone follows the procession through the medieval streets of Echternach to an important local church.
View Event
Fête de la Musicque
June 20th-26th, 2020 | Luxembourg
Fête de la Musique is a country-wide popular festival celebrating music and artistic performance.
At the height of summer, professional and amateur musicians alike perform across Luxembourg over six days.
Most noteworthy, 25 different organizers will offer concerts all over the country.
Luxembourg City and its residential areas alone feature 22 stages. The idea of the festival is to be closer to every day people.
Note that Government Offices are closed Tuesday, June 23rd.
View Event
Nationalfeierdag | Luxembourg's National Holiday
June 22nd-23rd, 2020 | Luxembourg
Due to coronavirus, the normal national holiday celebration has been canceled. A smaller event will be held in its place.
This is an exciting one of the Luxembourg nationality events. We officially consider this the Grand Duke's Birthday, although Grand Duke Henri himself was born on a different day. It's a must-see for any Luxembourger.
Luxembourg designed National Day to celebrate the Grand-Duke's birthday originally. It started once with the birthday of Grand Duchess Charlotte, which is on January 23rd. Her birthday was in winter, so the celebrations were postponed to a later date, on June 23rd.
The date did not change even after her reign. On June 22nd, towns across Luxembourg organize feasts, and there is a significant fireworks show in Luxembourg City. On June 23rd, there's a military parade in Kirchberg, Luxembourg City and an afternoon Te Deum at the Notre-Dame Cathedral.
Note that Government Offices are closed Tuesday, June 23rd.
View Event
Schueberfouer Nationality Event
August 21st-September 9th, 2020 | Luxembourg
People far and wide come to Luxembourg City for the annual Schueberfouer. Schueberfouer is the Luxembourg City funfair. The fair is held on the Glacis Square in the Limpertsberg district.
Even more than 2 million people will attend this 20-day funfair. Due to the fact the fair started in 1340, it has a long history. Probably one of the most well known Luxembourg traditions, Schueberfouer is a highlight of the annual calendar. Moreover, the fair is one of the largest funfairs in Europe. Most noteworthy are the rollercoasters, Ferris wheels, and plenty of eating and drinking.
Please note that hotels often book up well in advance for the Schueberfouer.
View Event
Luxembourg Christmas Markets Events | Winterlights Festival
November 21st-December 24th, 2020 | Luxembourg
It's hard to dream of a more beautiful place than Luxembourg to celebrate the Christmas season.
Soak up the yuletide atmosphere across the different traditional Christmas markets in Luxembourg City. You can sing along to carols, dance, or just listen to the music all around. Meanwhile, you can skate under the stars while the scents of mulled wine and gingerbread fill your nose. Most noteworthy are the two major markets include the market on Luxembourg City's Place d'Armes and Place de la Constitution. In addition, there is also an ice skating rink at Place Guillaume II (by the Bierger-Center).
Please note that hotels often book up well in advance.
View Event
The videos displayed above are sourced from YouTube.com. All videos on this page are Copyright and the property of their respective owners and YouTube channels.