LuxCitizenship Founder Daniel Atz was featured on Luxembourg's national TV channel RTL in a report broadcasted on October 17, 2017 called "More and More Americans Want to Become Luxembourgish." The following is his personal story of the aftermath leading up to a another RTL TV report broadcasted this week in Luxembourg.
It's a really strange feeling to see your name in a headline for the first time – especially in a foreign language. Dual Citizenship can lead to incredible surprises. This is just one of those stories.
I previously wrote in this blog about being recorded by Luxembourg's national TV channel RTL for a special segment about Americans taking Luxembourg dual citizenship. Previews were broadcasted for the special segment on October 16th and the full length segment came out October 17th. On the morning of October 17th, I woke up to an email from RTL in Luxembourg. Someone claiming to be the niece of my Luxembourg great-grandmother had seen the previews  and had been calling the station all morning asking if we could be put in touch.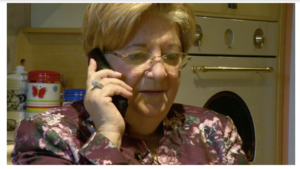 A few hours later, my hands shook as I was connected to an older woman, Annette Cruchten, telling me in French stories she had heard about my mother in the 1970s. It had been well over 30 years since she had heard from the family in America. Over the weeks to come, we would connect for many emotional phone calls with different members of my family around the USA.
Unbeknownst to me, my own grandmother (married into the Luxembourgish line) and this woman in Luxembourg exchanged letters and gifts from the 1950s through the early 1980s. When my great-grandmother passed away, our families had lost touch. Annette explained to me that although she had only seen my grandmother face-to-face for two hours on a surprise visit to Luxembourg in 1981,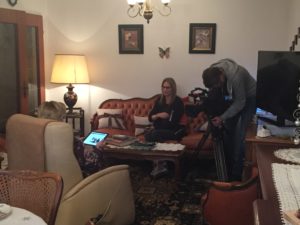 she had considered my grandmother like a sister since 1950. At almost 85 years old, seeing me and my great-grandmother's photo on TV was the greatest surprise of her life.
Following our conversations, I made the decision that I wanted to visit Luxembourg as soon as possible to meet Annette and her family. Having facilitated our original connection, RTL asked us if we would be open to having the TV channel follow us as we got to know each other. We both agreed and the rest is history.
I arrived in Luxembourg December 4th and the TV crew was waiting at the end of the the jetway. I was ushered around Luxembourg City's Findel Airport with a troupe of minders making sure we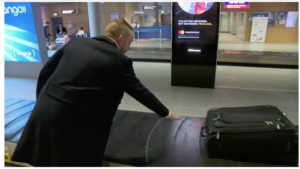 didn't videotape anything sensitive or people who had not given consent. I was taken to the luggage carousel where I was filmed picking up my suitcase 7 different times 7 different ways. I went up the escalator about 5 different times, each time passing by a woman with a "free hugs" sign who seemed more and more confused.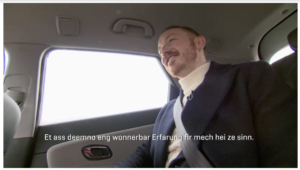 On the highway en route to Esch-sur-Alzette, the town of my ancestors and where Annette lives today, I was greeted by grey skies and fog. My stomach was in knots. What was about to happen? I truly had no idea. We arrived in Esch, which is a small town of 35,000 inhabitants and I was immediately aware just how French the town was – the border with France runs next to the town.
When we arrived at Annette's home, I waited downstairs as the television crew went it and put her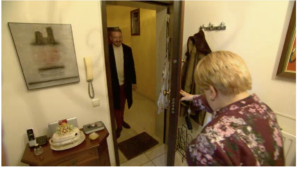 mic on. After 10 minutes, I was ushered up to her floor. I rang the doorbell and waited. When the door opened, the first thing that shocked me was how young Annette looked at over 80 years old. It was an incredibly emotional moment as she said to me, "everything will be better now" in French while we embraced. Then we were promptly told by the TV crew, that was very touching, let's re-shoot it from three different angles!
Over the next hours, we exchanged little by little over coffee and cakes about who Annette was, who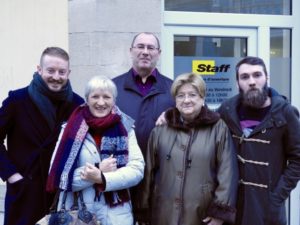 my great-grandmother was, and all the family in between. After a while, the TV crew headed out to let us be and to get to catch up on 100 years of history (my great-grandmother left in 1919). One of the most rewarding things about this experience was to learn about my great-grandmother and all the respect the family had there for her from the Luxembourger's perspective, instead of the American perspective all my family had. I was particularly touched by all the nicknames my great-grandmother had among the Luxembourgers, I had not heard any of these before.
Over the following days, I would visit around Esch-sur-Alzette and get to meet Annette's (and my distant) family. I was constantly amazed at how quickly we developed a connection.
As I stated in my last personal article, while I can't expect everyone who applies for dual citizenship will get to experience a story just like my own, I hope that it helps you to learn about and feel closer to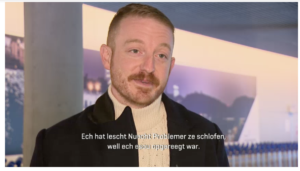 your family and your roots in a similar way as it has done for me. This is an incredible opportunity and so much can come from it.
PS – The Luxembourg press called me "a fresh baked" Luxembourger.
To view the video of the January 4 broadcast, please visit:  http://www.rtl.lu/lifestyle/people/1115520.html